Tony Pilmer, Librarian at the National Aerospace Library, picks out some of the things that make the library special…

The National Aerospace Library
 is the rather grand name of the library and archive of the Royal Aeronautical Society. The Society is open to anyone who is professionally interested in aeroplanes, helicopters, drones, launching things into space, hot air balloons etc., whether they are involved in designing, building, maintaining, testing, flying, administering, litigating – or simply enjoy researching the history of aviation.
The Society started in 1866 when a group of scientifically-minded individuals got together to work out how people could fly. For that, of course, they needed access to the best literature available, and so the library began. Then, as members got older and started looking for safe homes for their collections, the Society's library was found to be a natural choice.
For over one hundred and fifty years we have continued to give members (and now non-members) access to the best of new resources, whilst also preserving some amazing historical materials for historians, and indeed anyone looking for old answers to new questions.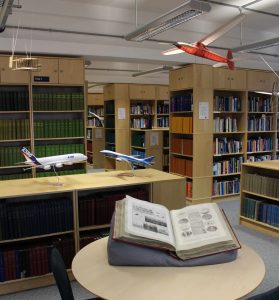 We open the doors of our Farnborough Reading Room to all, although the specialist nature of our collections means that we mainly attract professionals, historians and undergraduate and postgraduate students – there are hundreds of dissertations and theses waiting to be written on our shelves.
Our tours can last from two minutes to two hours (more if you get lost exploring our shelves), so I thought I'd better limit myself to highlighting seven things that make the National Aerospace Library so special…
#1: New stuff
We collect the best new aerospace publications, including textbooks, conference proceedings, journals and magazines. We also go through our new journals and transfer the details of the articles of most interest to our members and readers onto our library catalogue and, as a consequence, onto COPAC.
#2: Rather old stuff
The Library holds aeronautical material dating from 1515 onwards. Some of the gems of our collections have been digitised and placed on our heritage website, including the first technical drawings of an aeroplane and the notebooks of the Father of Aeronautics, Sir George Cayley.

#3: Royal Aeronautical Society stuff
Royal Aeronautical Society members have always been at the cutting edge of research.
Not only do we have letters from members of the Society to key figures in aviation, including the Wright Brothers, we also have recordings of lectures and interviews with many of them.
We have started to make available some of our audio material as podcasts, including recordings of 
Chuck Yeager
 and the men behind the
Fairey Delta II
and the World Speed Record of 1956.
We also hold the Royal Aeronautical Society Archive, which contains some wonderful material, including this cartoon of Sir Robert Hardingham, one of the Society's past presidents.
#4: Photo collection
We hold over one hundred thousand images in our photographic collection. We work with the Mary Evans Picture Library to market our digitised collections to individuals and to corporate users and…
Okay, I'm rumbled, I've just added this paragraph so that I can include some nice photos of aeroplanes!

#5: Volunteers
We have a great band of volunteers who are helping us to conserve and record our collections…

#6: Staff
…and we have a small, but perfectly formed staff to help readers find the material they want, whether in person, by phone or via e-mail. Our Chief Librarian, Brian Riddle, has worked in the Library for over thirty years – so what he doesn't know about the collections isn't worth knowing!

#7: Turning grown adults back into small children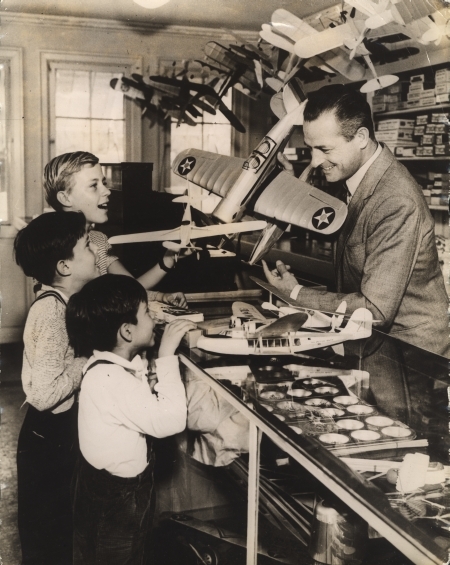 After just an hour at the National Aerospace Library, even the most serious grown-up has often turned back into the girl or boy who first saw an aeroplane swoop down in front of their eyes.
We have heard though that not everybody likes aeroplanes as much as we do, and for those who don't there are over fifty other libraries like ours – of professional and learned societies – both scattered around London and further afield. You can find out how to access the library on your favourite subject by visiting the website of the London Learned & Professional Societies Librarians' Group.
Tony Pilmer
Librarian
The National Aerospace Library
The Hub
Fowler Avenue
Farnborough Business Park
Farnborough, Hampshire
GU14 7JP
+44 (0)1252 701038 or +44 (0)1252 701060
hublibrary@aerosociety.com
www.aerosociety.com/nal
All images copyright the National Aerospace Library/Royal Aeronautical Society, reproduced with kind permission of the copyright holder.