Jacky Hodgson, Head of Special Collections at the Western Bank Library, University of Sheffield, tells us about an event showcasing items from their collections to an audience beyond the University.
As part of the third Sheffield Festival of Arts & Humanities, the University of Sheffield Library's Special Collections team recently took part in a Showcase Event in the Millennium Galleries in Sheffield city centre. Alongside us were colleagues from the National Fairground & Circus Archive (whose collections can be browsed at the Archives Hub), and many academics and students from across the Faculty of Arts & Humanities, presenting bite-size talks, activities and materials relating to their research interests to the general public.
The Special Collections team decided to showcase a variety of materials from our archive and rare book collections which support academic research, some of it relating to the local area and some of more general interest. As well as a stall on which to display physical objects for visitors to look at and handle, we also used a plasma screen to highlight some of our digital collections.
Examples of the collections on digital display included:
Photographs of late 19th century Sheffield from the Beet Lantern Slide Collection, a collection of almost 2,500 magic lantern slides covering a wide range of subjects, originally assembled by Arthur Edgar Beet in the early twentieth century
Twenty-four digitised images from the portfolio of hand-coloured lithographs entitled Recollections of the Great Exhibition 1851 


De Le Rue's Stationary Stand and Envelope Machine, from Recollections of the Great Exhibition 1851

A selection of images from the Knoop Far East Photographic Collection (http://www.shef.ac.uk/library/special/knoop), documenting a visit to China, Korea, Japan and many other lands in 1913-1914 by Douglas Knoop, lecturer in Economics at the University of Sheffield


Dancing Geisha girls, Japan (1913), from the Knoop Far East Photographic Collection
A sound recording of the Sheffield miner and poet 'Totley Tom' Hague, reciting some of his dialect verse
We also displayed material from our physical collections relating to research being carried out by academic colleagues in the Faculty of Arts & Humanities, including:
Documents from the recently deposited James Montgomery & Sheffield Sunday Schools Union Archive, including hymn sheets and programmes for Whitsuntide gatherings, newspaper cuttings and scrapbooks
The event ran from 11am to 4pm on Saturday 11 March 2017, with the opportunity to set up the stall from 9am. Four members of the Special Collections team took part, two in the morning and two in the afternoon. As well as the material on display, we also took our pop-up banner giving information about our collections and our contact details, plus flyers and postcards inviting visitors to register to be kept informed about future activities.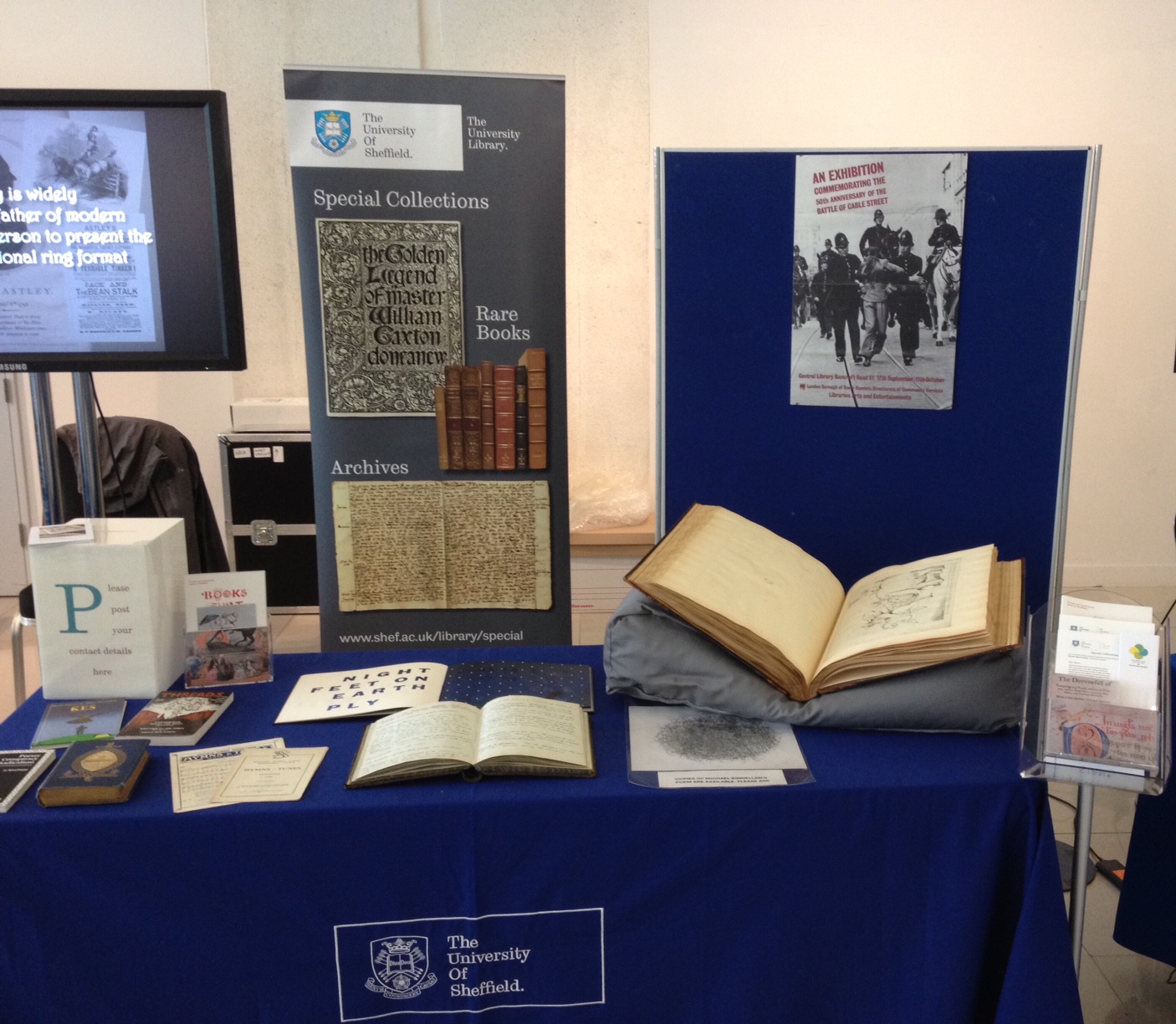 It was an enjoyable and successful day – time flew by as we chatted to a steady flow of visitors about the material on display. Some of our visitors were members of the Faculty of Arts & Humanities who were interested to see a few of our less well known collections, but the majority were members of the public curious to know more about the University's research and collections.
The caricatures volume drew particular interest, as did the Whit Walks hymn sheets which brought back memories for some of the older visitors.  We were also asked some general questions about using archives for family and local history research. Organisers reported that around 1,000 people visited the event during the course of the day, and that feedback was extremely positive.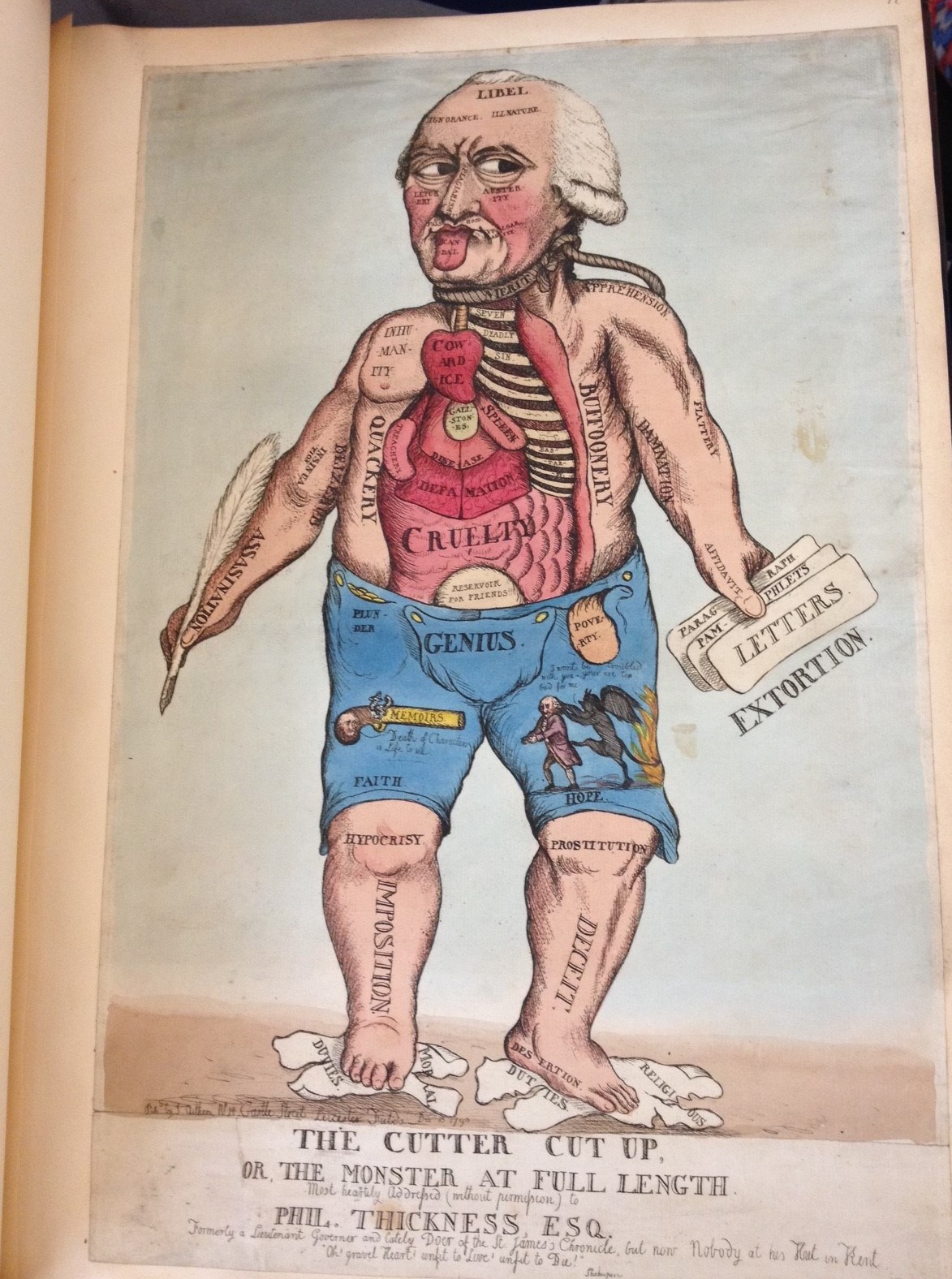 As well as our colleagues from the National Fairground & Circus Archive, other stalls included Dr Jonathan Rayner's research into the First World War magazine The War Illustrated which is held in our collections;  the AHRC-funded Digital Panopticon project, enabling researchers to trace and explore the lives of convicts between 1780 and 1925; an opportunity provided by the Sheffield Institute for Interdisciplinary Biblical Studies (SIIBS) for children to create a Greek Pantry God (Zeus Ktesios); and (rather worryingly for us librarians!) a family activity which involved chopping up books to create a stop-motion animation.


All in all, a very enjoyable and worthwhile occasion, providing us with the opportunity to showcase some of our collections and our work to the local community outside the University, and also to discover more about the research that our academic colleagues are engaged in.
Jacky Hodgson
Head of Special Collections
Western Bank Library
University of Sheffield
All images copyright the University of Sheffield Library and Michael Kindellan/Constitutional Information, reproduced with the kind permission of the copyright holders.