Thalia Knight, Director of Library and Surgical Information Services at The Royal College of Surgeons of England and Beth Astridge, Library, Museum and Archives Projects Manager highlight some of the remarkable library, archive and museum collections at The Royal College of Surgeons of England, which have recently been awarded Designated status.
Last month The Royal College of Surgeons (RCS) was delighted to announce that our combined library, archives and museum collections had been awarded Designated status by Arts Council England. The Designation award based on their quality and significance, distinguishes the library, archive and Hunterian museum at the RCS as unique collections of national and international importance.
The Designation application process is, quite rightly, a rigorous and searching exercise to undertake – as anyone who has attempted it would confirm!  We learned a great deal more than we expected about the collections and their inter-relationships in the course of our journey. There is so much we could talk about – all we do here is give some highlights and hope our readers will be moved to visit the RCS website, perhaps come in person to see us and think about referring potential researchers to our collections.
With 4.2 million surgical operations carried out every year in England alone, there are few whose lives have not been touched in some way by surgery. There were more than 70,000 visitors to the Hunterian Museum in 2012, testifying to the enduring interest of the public in understanding the evolution of surgery right up to the present day.
In terms of holdings statistics, the museum collections contain c. 54,000 items including specimens, instruments and art works. The archive collections consist of 2,274 boxes of material plus 542 unboxed items across 445 linear metres of shelving. The library holds approximately 100,000 volumes of books, pamphlets, and periodicals across 4.7 linear kilometres of shelving. Since 2002 the library and archives have been fortunate to receive support from The Wellcome Trust's Research Resources in Medical History grants scheme to enable cataloguing and conservation of our collections. Most of the 19th Century monographs have been catalogued online and we are currently working on the pre-1800 monographs. Our collection of 17th and 18th century journals including rare European and British periodicals are not yet catalogued online. Approximately 90% of the deposited archives have been catalogued online at collection level.
Where is the Royal College of Surgeons of England and how did it start?
The pleasant, green square of Lincoln's Inn Fields near Holborn in central London has been home to the College since 1796. Famous as a legal quarter, the various Inns of Court are within walking distance, as is the Sir John Soane Museum across the Fields.
The origins of the College lie in two City livery companies, the Company of Barbers and Guild of Surgeons, which combined in 1540 establishing the Company of Barber-Surgeons by Royal Charter. The Barber-Surgeons apprenticed and examined surgical trainees within the city of London. In 1745, the two professions separated again and the Company of Surgeons was formed. The Company built a new hall near Newgate Gaol with an anatomy theatre to teach students and dissect the bodies of executed criminals.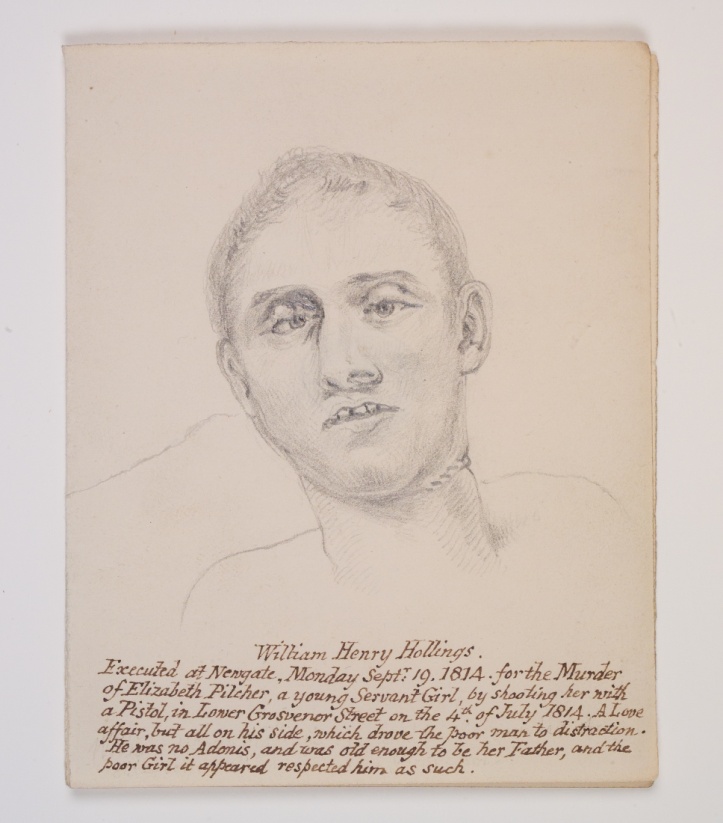 In the College's deposited archive collections there are many oddities but also some that provide great insights into the life of the College. William Clift, curator of the museum 1799-1842, left a varied collection of archives (ref. MS0007). Amongst his papers is a "Record of the Bodies of Murderers, delivered to the College for Dissection." This manuscript volume by Clift lists bodies received by the college and describes the cases of executions and dissections from 1800-1820 (Ref. MS0007/1/6/1/1). He also made sketches of some of the heads to accompany his notes.
In 1799 the government purchased the collection of the eminent surgeon and anatomist John Hunter FRS (1728-1793) giving custody to the Company on condition it was open to medical professionals and students. In 1800 the Company received its first Royal Charter, becoming the Royal College of Surgeons in London. The Lincoln's Inn property purchased in 1796 was prepared and the Hunterian Museum opened there in 1813.  In May this year we therefore celebrate the bicentenary of the opening of the Hunterian Museum.
When was the Library founded?
The first act of the College, beginning its new life in Lincoln's Inn Fields, was to accept from the Government the charge of John Hunter's Museum.  It was decided to form a library and books were bought for the use of the museum curators; from 1807 serious collecting on a large scale began.  There were many generous gifts of valuable books and manuscripts. The Library was publicly opened in 1828.  Library development was helped by early donations and purchases from important surgeons including the pathologist Matthew Baillie, surgeon and past Master of the College Sir Charles Blicke, and the surgeon Sir Anthony Carlisle.
What is in the library and archive collections?
As a result these significant donations, the library collections contain many rare editions, imprints and variants. There are 57 incunabula containing some rare items from the early printing presses of France, Germany and the Low Countries and some beautiful Italian books including Johannes de Ketham's "Anatomy", with its handsome woodcut illustrations printed at Venice in 1495. Of the 637 English books printed before 1701, 38 are unrecorded or variant editions, for example an unrecorded French translation of Aristotle's Secreta Secretorum, possibly printed at Lyon in 1490. We hold a number of rare first editions including Celsus (1478), Galen's Therpeuticorum libri xiv, Venetiis 1500, and Hippocrates Opera Omnia (Graece) Venetiis, 1526. We also have a scarce first edition of Aselli's De lactibus, 1627 which includes four coloured woodcuts, known as the earliest anatomical coloured illustrations.  The collection of anatomical books is particularly significant and includes one of the finest known copies of Vesalius's De Humani Corporis Fabrica, a second edition printed at Basel in 1555 and bound in contemporary pigskin stamped with allegorical designs.
Items from the pre 1800 collections demonstrate developments in early anatomical and surgical studies including surgical procedures such as bloodletting, amputation and trepanation.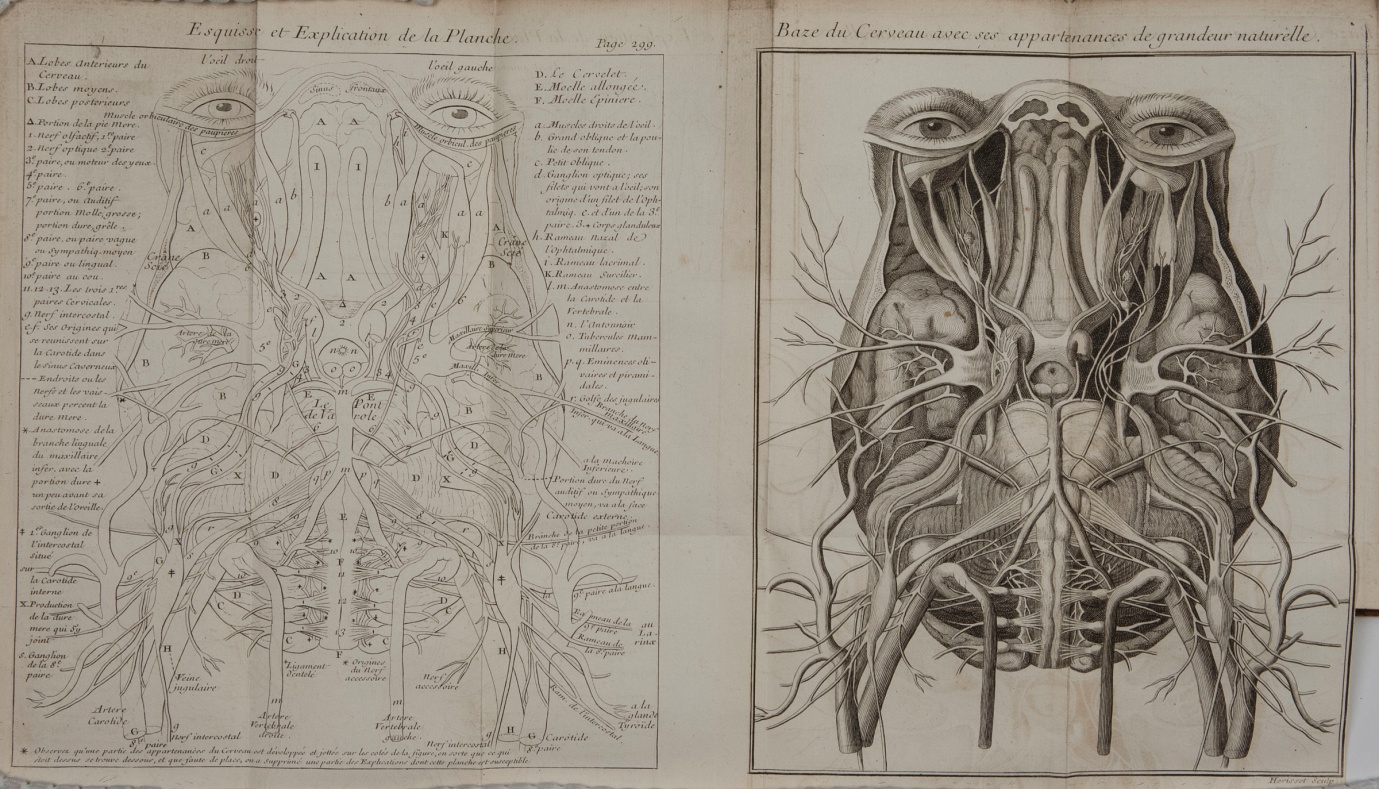 This plate (see above) shows a section of the head made into a detailed plate. The RCS Library copy of this work has a manuscript note in the preliminary leaves that indicates that it was a 'Gift of the author, 1744'.
Anatomical progress before the eighteenth century is illustrated comprehensively by our collections of significant anatomical works by the pre-eminent authors of the period such as Andreas Vesalius (1514-1564), Thomas Willis (1621-1675) and Govard Bidloo (1649-1713), who were actively challenging standard knowledge laid down by Galen.
During the eighteenth century John Hunter and his contemporaries were extending anatomical knowledge and advancing surgical practice. In addition to our collection of Hunter's printed and manuscript works, we also have an especially comprehensive collection of the works of Bernhard Siegfried Albinus (1697-1770), and excellent coverage of William Cheselden's work and research such as his work on lithotomy (cutting for the stone) including examples of his lithotomy knives and his signed 1723 treatise on the procedure.
A major medical advance of this period was the discovery of vaccination. Edward Jenner was a pupil of Hunter, who encouraged him to test his theories using Hunter's scientific experimental approach. Jenner was inspired to test the protective properties of cowpox against smallpox. In the archives we hold Hunter's letters to Jenner, other Jenner correspondence, a manuscript draft of the original cowpox vaccination publication, and a selection of his published works including a first edition of his cowpox treatise in 1798.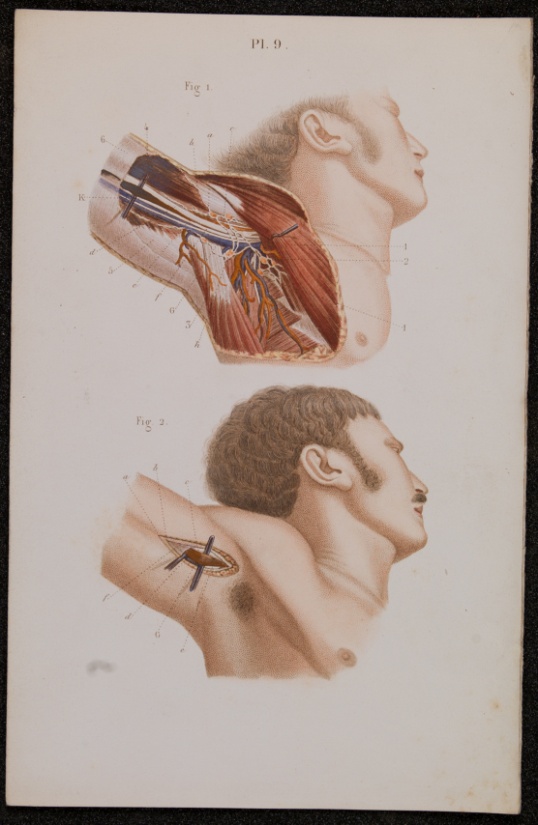 Major surgical advances were to revolutionise surgical practice in the 19th century. The most fundamental of these discoveries were pain relief and antisepsis, both of which are clearly illustrated by our wide-ranging collections. The collections are outstanding in their coverage of Lord Lister's research and work, containing Lister's manuscript research papers, the majority of his published works (some of which are annotated and given to the library by Lister himself), a number of carbolic spray devices, his microscope, samples of catgut ligatures that he developed, and surgical instruments he owned and used.
The collection of Sir Astley Paston Cooper (1768-1841) include fascinating notes and drawings of his experiments and research, specimens of anatomy and pathology collected or prepared by him, as well as case notes of his treatment of patients.
We hold a rare first edition of one of the greatest anatomical textbooks, Henry Gray's Anatomy, Descriptive and Surgical (Parker, 1858), in its original binding, as well as the first proofs of the engravings by Butterworth and Heath, for which Henry Vandyke Carter did the beautiful illustrations. Gray's Anatomy is now the longest running anatomical textbook in the world.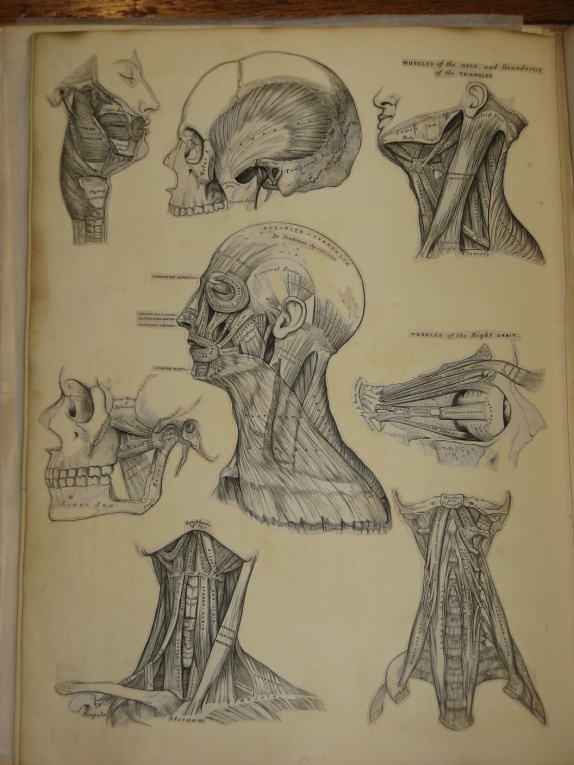 Henry Gray and Henry Vandyke Carter worked together at St George's Hospital. They began to collaborate to create a practical and affordable textbook to aid anatomy students and trainee surgeons. As research for the textbook, Gray and Carter carried out many dissections together. Gray was responsible for describing the dissections for the text in the publication, and Carter was responsible for illustrating the textbook.
Throughout the 19th century College employed museum conservators who were experts in their respective fields. Examples include the palaeontologist Sir Richard Owen (1804-1892), the microscopist John Thomas Quekett (1815-1861), and the zoologist William Henry Flower (1831-1899). The work and research of these important scholars is reflected in the collections through the specimens they prepared, books they wrote, collections they catalogued, and archive papers of the research they carried out.
Conflict had a profound influence on developments in plastic surgery, demonstrated by our Harold Gillies (1882-1960) collection. Gillies developed new procedures to reconstruct the faces of soldiers injured during the First World War, including vastly improving the success of skin grafting procedures. The Gillies material includes extensive patient files with photographs detailing treatment and procedures, a wax teaching model and casts of life masks illustrating facial reconstructive surgical procedures, and surgical instruments owned or used by Gillies. Additionally we hold the Henry Tonks (1862-1937) collection of beautiful pastel portraits of soldiers treated by Gillies which are highly regarded and have been exhibited worldwide.
The College library and archive collections were developed to support the world-leading research into natural history and comparative anatomy that were being carried out in the museum. This can come as a surprise to those who assume that our collections are purely medical or surgical. Zoology, evolutionary theory and palaeontology are supported by works by Charles Darwin, Jean Baptiste Lamarck (1744-1829), Georges Louis Leclerc, Comte de Buffon (1707-1788), Gideon Mantell (1790-1852) and William Buckland (1784-1856). Research into comparative anatomy is supported by works by Edward Tyson (1650-1708), Georges Baron Cuvier (1769-1832) and Thomas Henry Huxley (1825-1895).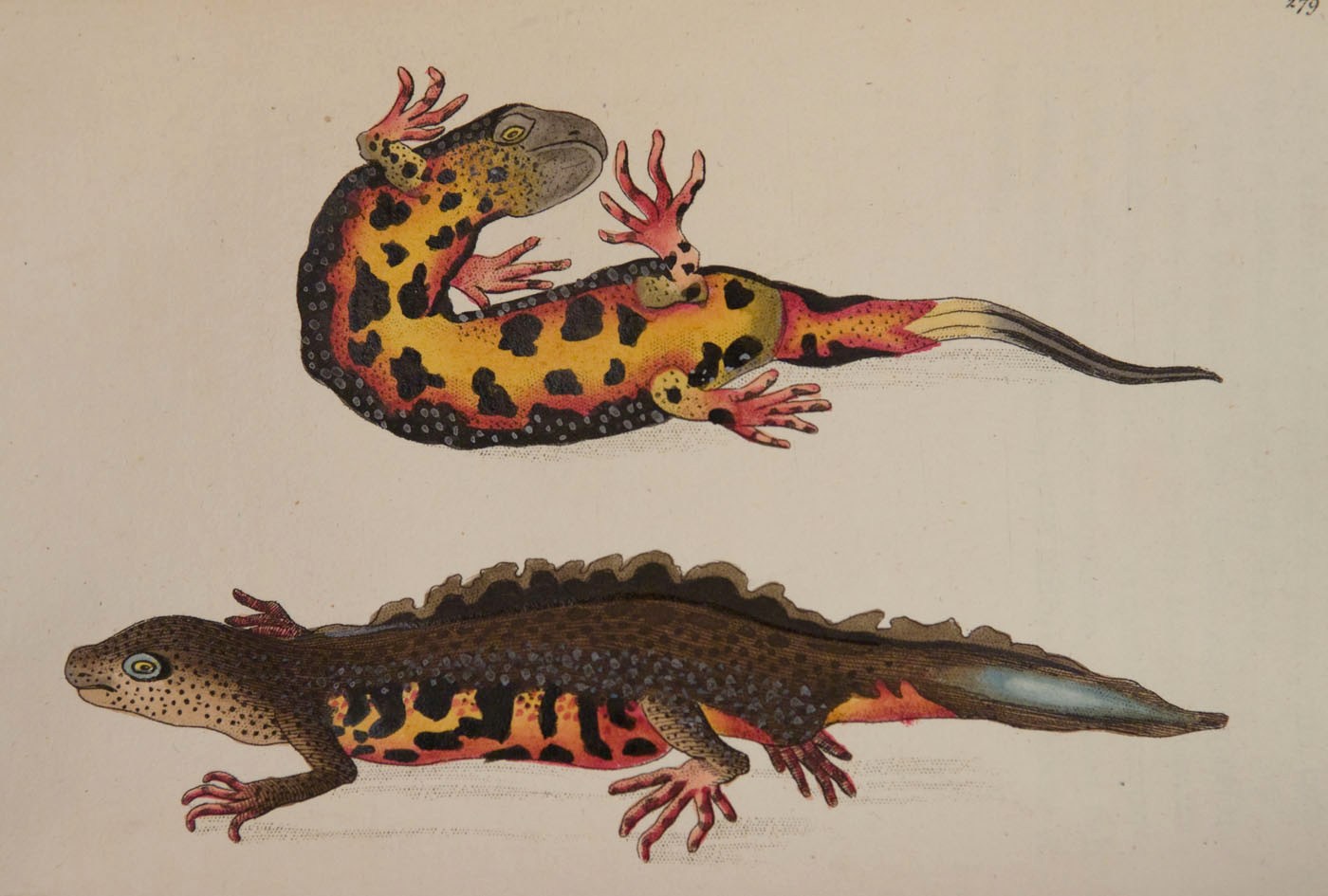 George Shaw and Frederick Polydor Nodder. Vivarium Naturae … The Naturalist's Miscellany: or Coloured Figures of Natural Objects; drawn and described immediately from nature. London, 1789-c.1813.
The Naturalist's Miscellany is a collaboration between author and draughtsman-engraver devoted to zoological subjects. Complete sets are rare, since the work was published in 287 monthly parts over some 24 years. In 1814 a sequel, The Zoological Miscellany, was begun by William Elford Leach, with Nodder continuing to do the plates. This was completed in 1817, and comprises three volumes. Of this work only 50 copies were printed, and it is one of the rarest known to the ornithologist. Before our rediscovery of a set in the Library there were only two copies believed to exist in England, one in the British Library, the other in a private collection.
Finally, there is also important material that provides insight in unexpected subject areas. John Hunter and his wife, the poet Anne Home Hunter, were friends with many of London's artists and musicians and many important paintings arrived with his museum. In the 19th and 20th centuries the College continued to collect paintings and drawings of new species or unusual medical collections as well as portraits and sculptures commemorating distinguished members, fellows and benefactors of the College.
Our archive collections contain poetry and a libretto for Haydn's "Creation", by Anne Home Hunter; papers and correspondence of the poet and dramatist Joanna Baillie including letters exchanged with literary acquaintances such as Sir Walter Scott, William Wordsworth, and Maria Edgeworth; a manuscript fragment of Mozart's Rondo in A Major; two unpublished works by Rudyard Kipling and correspondence with Sir John and Lady Edith Bland-Sutton and his uncle Edward Burne-Jones with accompanying illustrations.  The drawing below is one of our favourites and is an apt note to end on!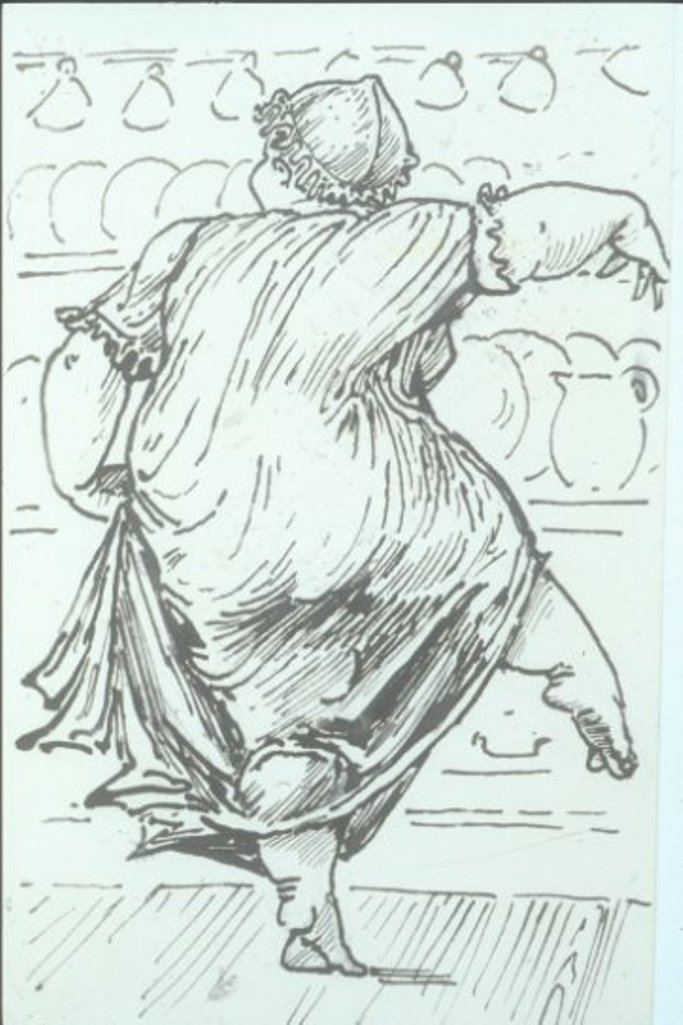 The drawing was probably sent in 1897 when Kipling's son, John, was born.  In the letter Burne-Jones explains that he is sending "a design intended to illustrate a poem I hear you are writing, on the subject of your cook dancing a jig of joy at the birth of your heir".  [MS0019]

Images reproduced by kind permission of the President and Council of The Royal College of Surgeons of England.
See the Royal College of Surgeons of England's holdings on Copac.