The Library of the Society of Friends is the library and archive of the Religious Society of Friends in Britain (Quakers). It's responsible for the care and use of one of the largest collections in the world relating to Quaker history, thought and activities.
Its origins lie in the religious controversies of the 17th century. In 1673 a committee of Friends (the Second Day's Morning Meeting) decided to keep two copies of every book written by Friends, and one of every book written against them. This gathering together of books and pamphlets is the foundation of the Library.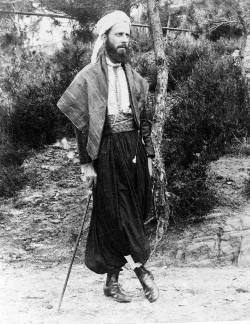 When the first librarian (Norman Penney) was appointed in 1901 the books were stored in the Society's then central offices in Devonshire House, Bishopsgate, along with the archives from the 17th century on – records of Yearly Meeting (the annual Quaker assembly), Meeting for Sufferings (the national executive body) and numerous committees. Penney was a dynamic force in starting to arrange and catalogue these burgeoning collections, which were supplemented by substantial manuscript collections formerly held in private hands.
By the time plans for the present Quaker headquarters on Euston Road were being drawn up in the 1920s, a purpose built library with strong-rooms and reading room were an integral part of the specification.
Today the Library is open to all for research, and has a varied readership of members of the Society of Friends, academic researchers, local and family historians, media researchers and others. One of its strengths (and one of the reasons it's such a great library to work in) is the way the printed and archival collections complement each other. Users can search across both printed and archive material using the online catalogue, and, like many special libraries, the Library has developed a range of finding aids and biographical, geographic and topical subject files that draw on the different parts of the collections.
Its printed collections now include over 100,000 books, pamphlets, broadsides and other items, and around 2,000 serial titles. While the majority are Quaker publications, there are significant supporting collections, including works on Quaker history and publications in areas where Quakers have been particularly active, such as the peace and anti-slavery movements.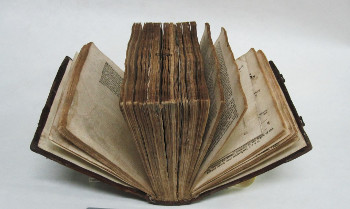 What are the highlights? While other special collections may bring out lavishly illustrated books and gorgeous bindings to show off their holdings, our books are, by and large, distinguished by their sober appearance. They may lack visual sparkle, but book historians and conservators have been known to wax lyrical about some of these more humble exemplars of 17th and 18th century book production and bindings.
This lack of ornament is in keeping with the Quaker testimony of simplicity (exemplified in plainness of dress and speech), but it doesn't mean there are no visually striking printed items in the collections. One example is George Fox's Battle-door for teachers & professors to learn singular & plural (1660), a defence of the early Quaker use of "plain speech" (addressing all equally as thee and thou), with section heading pages printed in the shape of a battledore (the paddle shaped alphabet learning boards that succeeded hornbooks).
Anti-slavery campaigners used the power of visual imagery to great effect, in ways that are well known. This image of a plan of a slave ship was a potent way of conveying the real horror and suffering of the trade to a wide audience (read more about this particular copy, bound together with other anti-slavery material, in this post on our Quaker Strongrooms blog). The Library also holds anti-slavery china – cups and saucers bearing the anti-slavery message.


The central Quaker archives held by the Library consist of minute books, correspondence, reports and other records. Among them are the Great Books of Sufferings, 44 huge manuscript volumes compiled between 1650 and 1856, recording persecution of Quakers around the country for holding illegal meetings, non-attendance at church, or refusal to pay tithes (read more about them here). These central archives reflect Quaker involvement with wider social movements, like anti-slavery, peace, temperance, war time relief and reconstruction. Take for example the extensive records of the Friends Emergency & War Victims Relief Committee: a project to catalogue and make these more accessible has recently been completed.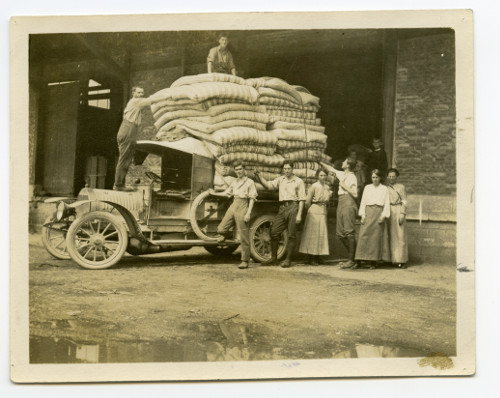 The Library also holds local London & Middlesex Quaker records dating back to the 17th century – a rich resource for local historians and others (including economic historians, like this PhD student who wrote about her research on the Library's blog).
A number of other Quaker related bodies have deposited their records in the Library. One of the more substantial archives is that of the Friends Ambulance Unit (the unofficial volunteer ambulance service set up by Quakers in both World Wars to provide alternative wartime service). In preparation for the World War I centenary, the Library has made the F.A.U. 1914-1919 service cards.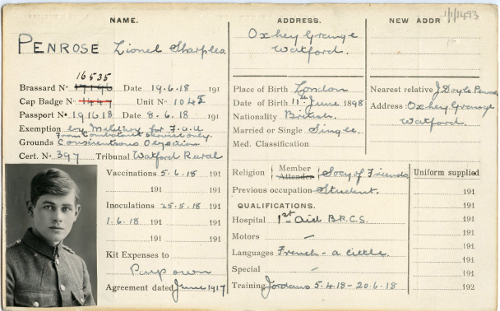 Besides official records, there are considerable collections of personal papers – letters and diaries of well-known figures like George Fox or Elizabeth Fry (prison reformer, recently featured on the £5 note), and others less well-known, such as the travelling minister Abiah Darby of Coalbrookdale (1716-1794), or James Jenkins (1753-1831), illegitimate son of a Quaker, whose Records and recollections provide a sometimes waspish commentary on contemporary Quaker affairs. While the Swarthmore Manuscripts (a substantial body of about 1,400 letters and other documents of early Friends) are considered the "jewel in the crown" for historians of 17th century Quakerism, there are also rich collections of family papers for later periods, such as the Lloyd Papers or the A. Ruth Fry papers, both spanning several centuries.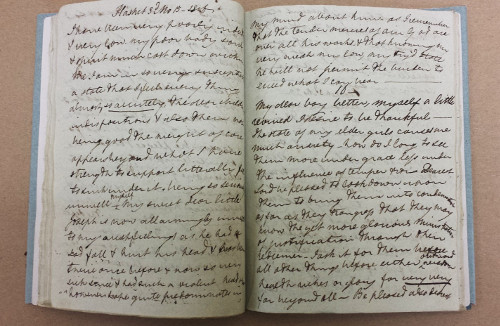 The Library's printed and archival holdings are complemented by its visual collections –  paintings, prints and drawings, and a remarkable photographic collection, including the photographic archives of Quaker relief work from the First World War onwards.
Contributing to Copac is one of the ways we're making our collections known to wider audiences. For regular highlights, check out our own library blog and Facebook page.
Tabitha Driver
Printed Books Librarian
Library of the Society of Friends
All images copyright the Society of Friends and reproduced with the kind permission of the copyright holder.